About Sea Hunt Scuba
Sea Hunt Scuba is a 20+ year PADI 5 star facility offering the most highly coveted scuba certification in the world.  More than two thirds, of the worlds certified divers are PADI trained.  This means that our student have the most recognized certification cards in the world.  Curtis Deyo and Steve Bohanan, who do most of the training, have been teaching scuba diving for more than 25.  "We want our students to leave w/ the best training available".
Sea Hunt Scuba was established in 1982.  It has been serving Saint Augustine and Jacksonville area with scuba diving classes, equipment, trips, & service since the doors were open.  The current, 6000 square foot, scuba training facility was built in 2000 and houses a 13ft 100,000 gallon heated indoor pool.
Learn to dive and dive the world!  Since 1992 scuba, diving has taken Sea Hunt Scuba's customers out of the country over 30 times.  Florida has the best reef and wreck dive in the country. Please come and visit our facility for your next diving adventure.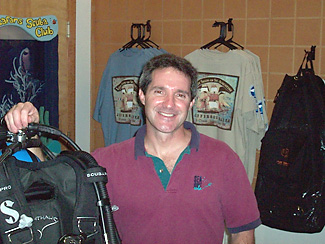 Steve Bohanan
Certified Scuba Diver in 1981
Certified in Life Saving in 1985
Advanced Open Water Diver 1985
Rescue Diver 1985
Certified Life Saving Instructor 1986
Certified Swimming Instructor 1986
Certified in Water Safety Instructor 1986
Bachelors of Business Administration 1989
Scuba Instructor 1990
Cavern Diver 1990
Certified Full Cave Diver 1991
Master Scuba Diver Trainer 1993
Rebreather Instructor 1997
Gas Blender 1998
Trimix Diver 1998
Steve has made approx 4000+ dives.  He is a Specialty Instructor in many areas of diving.  Dive travel is one of his areas of expertise.  He has been diving in many of the world's best diving destinations.  Australia, Fiji, Tahiti, Palau, Truk Lagoon, Hawaii, Galapagos Islands,  Socoro, Coco, Thailand, Red Sea, and much of the Caribbean are just a few of the places he has run trips.  His passion for scuba diving is rooted deep in his faith in Jesus.  Steve says "God has brought me Peace, Purpose, & the Promise of Heaven despite my failure.  This has given me an enjoyment of diving I thought not possible!"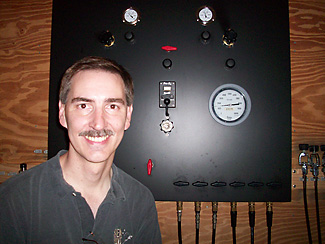 Curtis E. Deyo

PRACTICAL EXPERIENCE:
Total Logged Dives to Date: 3000+ Approx.
Total Decompression Dives: 1000+ Approx.
Dives Deeper than 100 Feet: 800+ Approx.
Deepest Dive to Date: 241' Eagles Nest, FL
DIVING INDUSTRY BACKGROUND:
1978 TO 1981 - Worked for Florida PADI Collage as divemaster and equipment technician.
1986 TO 1988 - Worked for Aquifer Dive Center-Jacksonville, FL as divemaster for openwater training program.
1988 TO 1994 - Instructor/Technician/Manager for Aquifer Dive Center.
1994 TO PRESENT - Instructor/Technician/Manager for Sea Hunt SCUBA, St. Augustine, FL
NOTABLE ACCOMPLISHMENTS:
Youngest person to have received Advanced Technician Training.
NSS-CDS Abe Davis Safety Award (at least 100 safe cave dives)
NACD Silver Wakulla Award (at least 500 safe cave dives)
TECHNICIAN RATINGS HELD FROM:
SCUBAPro
Sherwood
Poseidon
Atomic
Aqualung/SeaQuest
Interspiro
Ocean Reef